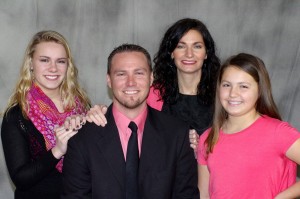 Our Pastor
Bishop Mark and Natalie Crumpton have served as Pastor here at the Lexington Church of God since 2007. Pastor Mark and Natalie are both originally from the Lexington SC area.
They were married in 1995 at the West Columbia Church of God, and have two daughters, Meghan born in 1997, and Emmaly born in 2003.
Pastor Mark served active duty in the United States Air Force from 1995-1999. Following his service in the Air Force, Mark has worked for many of the radio stations in the Columbia area as a broadcast engineer. Natalie is a registered nurse and has worked in the medical field since 1997. Natalie is currently the director of case management at Providence Hospital in Columbia SC.
Pastors Mark and Natalie began they're ministry in 1996 as youth ministers at the South Omaha Church of God, Omaha NE. They continued to serve as youth ministers until 2007; most recently serving at City of Hope Worship Center from 2000 until 2007 when answering the call of God to pastor the Lexington Church of God.